to our generous Patrician Sponsors and Advertisers. The target for the Perpetual Fund was achieved from the sponsorship funds (Platinum sponsorship – $2,500 & Gold Sponsorship – $1,000) and the Silver Jubilee Commemoration diary was printed with funds generated from advertisements. All who attended the "Silver Jubilee Patrician Nite" received a copy of the diary. 150 diaries were also sent to the College and Fr. Rector distributed them to staff and senior students.
Platinum and Gold Sponsors posed for a photograph with the Rector at OBA's 25th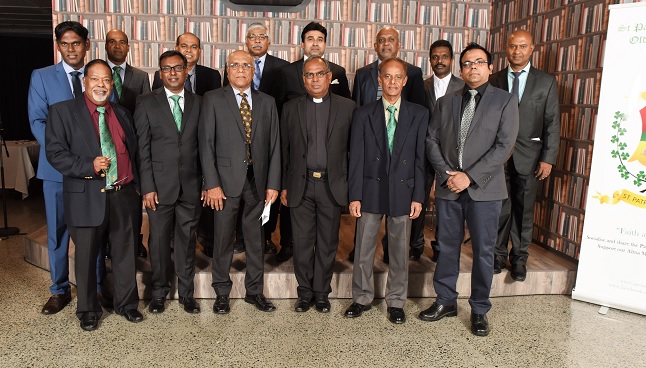 L to R (front row) – Reg Cherubim, Noel Rajiv, Dr Anton Mariampillai, Rector, Basil Thanenthiran, Dr Sanjeev Alfred
(back row) – William Nimalraj, Jenith Jesuthasan, Dr Florentine Singarayer, Dr Basty Douglas, Jerry Alphonsus, Chandran Benedict, Jeyandra Antonipillai, Angelo Fernando
Absent – Dr Keith Abraham, Dr Bruno Jesuthasan
Platinum and Gold sponsorships were recognised with Life Membership of the OBA.

The table with ID 6 not exists.