MOU has been signed between the Rector and Committee of the Melbourne OBA. Rupees 3 million has been invested and the interest earned will be paid to the College annually. This is a major achievement and the highlight of the 25th anniversary celebrations of the OBA.

 SPC Cricket Fund – towards supporting the cricket activities of the College. $12,000 was remitted over a period of 8 years between 2008 & 2016. 

Mevin Christoper Jackson Education Fund
Mevin is a boarding student at the College and his father died in a car accident in December 2013, while on a visit to Australia. Melbourne OBA agreed to pay Mevin's school and hostel fees for the school years – 2015 to 2018 (4 years in total).  The amount – totalling $2,150 – was contributed by very generous Patricians in Melbourne as follows: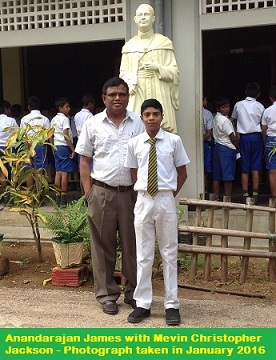 Contribution to the JEYARATNAM THANUSHAN AMALAN ASSISTANCE FUND
An old boy of the College, Thanushan Amalan, was killed in tragic circumstances at the 97th "Battle of Golds" cricket match held at Vaddukoddai on 15 March 2014. $500 (Rs 60,500) was paid in May 2014 into the "JEYARATNAM THANUSHAN AMALAN ASSISTANCE FUND" which had been established by the OBA Jaffna and the College to help his young family.

Renovation of the College Chapel
Patricians who attended the Global Reunion 2012 held in Jaffna decided to contribute funds towards the renovation of the College Chapel. Melbourne OBA established a project to raise funds and collected a total of $3,280. An amount of $3,500 was sent to the College for the renovation of the sanctuary/altar. The project was completed in September 2013.
The following Patricians contributed a total of $3,280 towards the Chapel Renovation Fund
Over the years ……
The OBA made many other remittances to the College over the years for various causes, scholarships, purchases etc. Below are details of the funds sent
Ongoing Project – towards supporting the cricket activities of the College. Details on SPC Cricket Fund. Remittances todate total $12,000.
In 2011, cricket gear to the value of $100 was purchased and donated to the College.
The surplus from the Patrician Nite 2009 – amounting to $1,500 – was remitted to the College in November 2009 to help students from the Vanni area orphaned by the war.
18 boxes containing over 1000 books were sent to the College Library in September 2009.
Cyclone Nisha devastated the College buildings and equipment in 2008. $1,230 was sent to help towards effecting urgent repairs.
In September 2003, $1,202 was sent for the purchase of furniture and equipment.
In 1999, $1,000 was sent as the OBA's contribution towards the building of the "LONG BLOCK". The following Patricians donated the amount sent:
Between 1994 and 1998, a total of $373 was sent to the College to be used as prizes for the best performing student in the G.C.E. (O.L.). This was presented at the Annual prize giving.