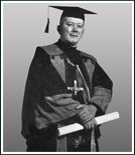 Rev. Fr. Charles Soubry Matthews OMI
Rector 1905 – 1921 and 1924 – 1936
Born on 27 May 1879 in Messein, Nancy, France. His father – Soubry – was a Frenchman and captain of an ocean liner. His mother, Miss Matthews, was an English woman and they met on board his ship. Young Charles lost his father very early in life and was brought up by his virtuous and valiant mother, who had from the beginning dedicated him to the service of God. Till the end, Fr. Matthews would speak of his mother with great love and tenderness.
Fr Matthews spent his boyhood at Normandy, France, received his education in England, France and Belgium and enrolled at the University of Ottawa, Canada in 1896. While at the University, he joined the Order of the Oblates of Mary Immaculate (OMI) in 1897 and was ordained on 24 May 1902. In 1903 he graduated with M.A. in Divinity and was then sent to Sri Lanka (then Ceylon) to join the staff of St. Patrick's College, Jaffna – which had been in the care of Oblates since 1859. Fr Matthews was appointed Rector of the College in 1905. In 1921, he handed over the reins for 3 years to Rev Fr John Guyomar and served as Vice-principal. He resumed as Rector in 1924 when Fr Guyomar was consecrated as the Bishop of Jaffna. He served as Rector of St Patrick's until 1936 and then handed over the Rectorship to Fr Timothy Long. "Matthews Block" – purpose built by Fr Long to house the boarders and religious staff and which has now become the main school – was opened by the Prime Minister of Ceylon (Rt. Hon. D.S.Senanayake) on 10 April 1950. Fr Matthews served as Rector of the College for a total of 28 years – the longest serving Rector to date. He was a distinguished educationist and had a great influence in shaping the lives of so many patricians. On relinquishing his tenure at St. Patrick's, Fr Matthews took charge of St. Xavier's College Mannar for a year (1937) and was then appointed Rector of St. Henry's College llavalai in 1938. In 1946, he returned to St. Patrick's College as its Prefect of Studies and was subsequently appointed Principal of the primary school.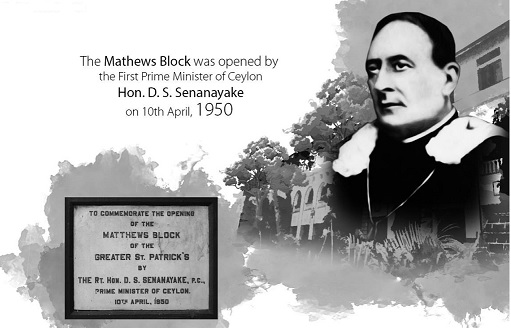 On reaching age 75 in 1954 – the compulsory retirement age for priests under canon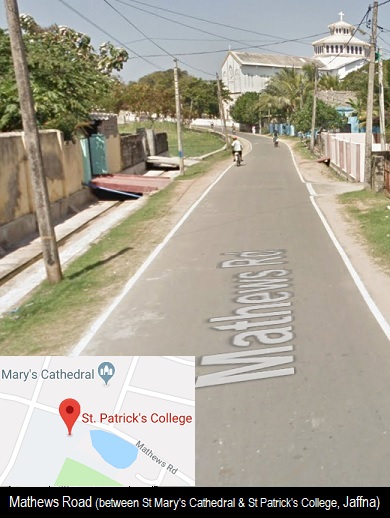 law – Fr Matthews retired, but continued to work including as visiting lecturer at the National Seminary, Ampitiya and other institutions.  In 1964 he retired to Amala Utpavam – the Oblate House at Colombuthurai – and passed away on 1 November 1969, aged 90 years. He loved Jaffna and it is appropriate that Fr Matthews was laid to rest at the Jaffna cemetery, in the section devoted to the members of religious orders. He was humble and self-effacing but an "institution in Jaffna" and Jaffna honoured him by naming the street adjoining the College "Mathews Road" that still bears his name.